Services from
The Tackle Box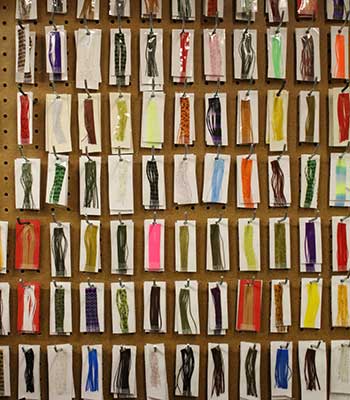 Custom Jig and Spinner Bait Skirts
Jigs and spinner bait skirts come in an almost unlimited amount of colors. Even though the combinations seem endless, some Anglers prefer to make their own skirt colors. Sometimes a small adjustment in color can make a world of difference when fishing amongst other Anglers.
The Tackle Box sells a large variety of jig and spinner bait skirt options. We can help you to mix and match skirt colors to make that special jig and spinner bait skirt. Call or stop by to discuss what you are looking for in a custom skirt. If we do not currently stock the colors you are looking for, let us know and we will order it. As with all of our products, once a product is stocked, it will stay in our inventory until the manufacturer discontinues it.
Shipping Purchased Items
As an added benefit to our loyal customer base, The Tackle Box will ship purchased items. If we have a product that you need shipped, let us know. We accept purchases via phone and email (credit card is required). Additional charges may be applied for items shipped.
Guide Service Information
If you are looking for guided fishing packages, we recommend local tournament Angler Toby Lillard. Contact him through his website: TobyLillardFishing.com or call him at 931-538-9521.
Boat and Motor Repair
For boat and boat motor repairs, call Carl Harris at Harris Marine, 931-572-9130.