What
The Tackle Box

Offers
Products Stocked
Jigs
Spinner Baits
Buzz Baits
Swim Baits
Worms - finesse, medium, large
Creature Baits
Beaver Baits
Crawfish Baits
Lizards
Chunks
Crank Baits - deep divers, medium divers, shallow divers
Lipless Crank Baits
Top Water Baits
Frog Baits
And more....

The Tackle Box is an eye-to-eye, talk-to-talk personal service when you come to the store. Over the phone or by email, you will get the same quality of personal service.
The prime directive of The Tackle Box is to get the lures you want, as quickly as possible and then have them available to you when you want them.
The Tackle Box is a bass lure specialty store. The inventory focuses on bass lures. What is not in the store inventory is acquired from the manufacturer and then that item becomes permanent to the store inventory.
View some of our products:


Bass Angler's Candy Store
Bass hooks, scents, weights, glass beads, lines, etc. are available in the store and upon request. Rods and reels can be purchased upon request.
We DO NOT SELL live bait, electronics, or tackle for non-bass species of fish.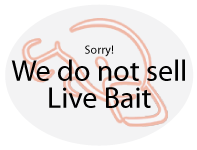 The Tackle Box offers an on location custom jig/spinner bait skirt service. There are currently over 100 different colors to make that special skirt. Discontinued skirt colors can continue to be made through this service. And on occasion discontinued colors have been produced for The Tackle Box.
The Tackle Box offers purchasing by telephone and by email. For telephone and email purchases, payment must be made immediately with a credit card.
The Tackle Box offers gift certificates for any amount for that special Angler.
The Tackle Box's current listing of lure companies include:
Payment Options
For store purchases cash, credit cards, debit cards and money orders are accepted. Checks will also be accepted on a case-by-case basis.
For telephone and email purchases credit cards are accepted. No checks, sorry.