About
The Tackle Box
Welcome to The Tackle Box. Twenty six years ago my fellow bass angling buddies and I found it difficult to get the lures we wanted from local stores. We also found it difficult to count on these stores to have the lures available each time we needed them. Thus The Tackle Box was created in order to meet those needs.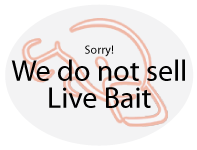 Each week at least one new lure and new color is added to our store's inventory. It is only when a bass Angler specifically requests a lure/color does that particular lure/color become a permanent addition to our inventory. It will stay in our store's inventory until it is no longer produced by the manufacturer.
What this means is that the Angler can rest assured that the lure/color that he/she wants will be available when he/she needs it.
Bass Angler's Candy Store
The Tackle Box is currently home to lures from more than 70 companies both large and small with an inventory that continues to grow each week.
The Tackle Box is also an avid supporter of several local charity bass tournaments.